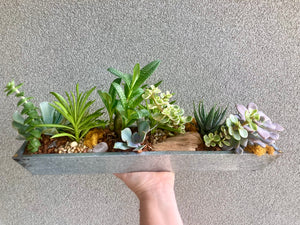 We styled this planter with the simplicity in mind. A mix of succulents with different texture, size and variation of green color. Planted in a modern, galvanized, low vessel…approximately 18"x5"x5" topped with moss, driftwood pieces, neutral rocks and small wood chips. A nice gift for the office, housewarming, event centerpiece or sympathy piece as well. Plants may vary due to production and availability for that day. Arrangement will be similar in color, style, beautiful, and full to value.
Orders placed on Sunday will be ready for PICK UP or Delivery on Tuesday afternoon.
Orders placed Monday - Friday will be ready within 24hours.